The Adventures of Crimson and the Guardian: Story Excerpts
FREE Book Report Templates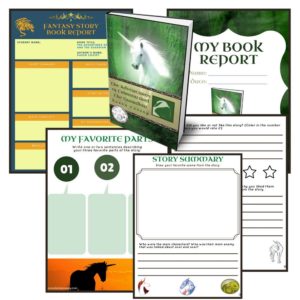 Use these templates to prepare your own book report based on The Adventures of Crimson and the Guardian
Kids Fantasy Book
The Adventures of Crimson and The Guardian
A journey into a medieval fantasy world for 8-10 year olds
War is looming, sinister creatures are prowling the land, and old enemies are gathering their forces. Can anyone stop them now that there is no Guardian to protect against evil? 
Bored and frustrated, the orphaned kitchen-maid Kinsey knows nothing of the approaching dangers as she goes about her daily life.  Though she wishes for excitement, when she stumbles upon a cloak with hidden powers she is not ready for the adventures coming her way.
It is up to Crimson, a mysterious talking unicorn who befriends Kinsey, to help her. Although Crimson does tend to hurl Kinsey into one dangerous escapade after another before offering any help. First Kinsey must face a deadly river monster attacking a castle, and then overcome a band of vicious jagotchies before rescuing the kidnapped leader of the dwarfs.
As she travels closer to the battlefield where the nations enemy is gathering his forces, she has to avoid wolf-like creatures called mungas intent on tearing her limb to limb, escape the clutches of the small but deadly bobaho and kill a giant savage dragon.
At every encounter Kinsey discovers more about the cloak's magic secrets, and surprises herself with her own abilities.
But has she learned enough to be able to defeat the Snake and the deadliest enemy of all, the disease-spreading Pegasus of Peril?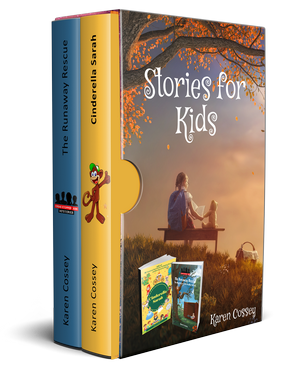 Receive a FREE Digital Book Box!
Want to try my books for yourself and be the first to hear of my new book releases?
Receive your own Digital Book Box including:
TWO FREE BOOKS:
The Runaway Rescue (for 9-12 year-olds) and
Cinderella Sarah (for 5-9 year-olds)
Signup Here to Receive Your Free Books: